Noah Mazé Yoga Workshop
---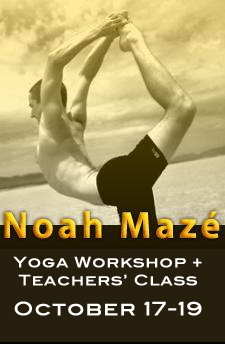 with:
10/17/2014 3:00pm
-
10/19/2014 1:00pm
Join us for a fun-filled weekend workshop with Noah Mazé! If you've ever been to one of his workshops before you know you will return! He is a strong, clear, insightful, intelligent and inspiring yoga teacher. Don't miss this incredible opportunity to gain a deeper understanding of this practice ignite your passion!
Friday 3-5:30 pm--Stories of Yoga:
We will explore the stories and symbolism behind the postures you may teach or practice. Bring a copy of Light on Yoga and a journal. Expect story time, yoga time, contemplation and journaling.
Friday 6:30-8:30 pm--On the Field of Dharma:
A vinyasa style practice of standing poses, hip openers and forward bends. All Levels.
Saturday 10-12:30pm--Yoga is Skill in Action:
All Levels practice of standing poses and backbends. Expect step-by-step sequencing and strong work in fundamental poses plus refinements and options for All Levels.
Saturday 2:30-5pm--Yoga is Evenness of Mind:
All Levels practice forward bends, hip openers, twists, inversions, restoratives and meditation.
Sunday 10-12:30pm--Ride the Tiger:
This led practice style class of vinyasa, standing poses and arm balances will challenge and delight you. Come ready to work hard, have fun, learn some new things and work deeply in poses. Intermediate Level.
---