Yoga in Fairhope, AL
---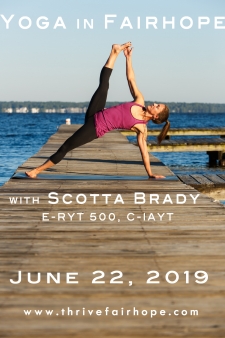 with:
06/22/2019
9:30am
-
3:00pm
9:30 am-11:30 am Ground Your Practice: Great for beginners and experienced practitioners alike, students can expect a dynamic warm-up, an exploration of strength through range of motion specific to the fundamental postures practiced, and a breakdown to build the posture from the ground up.
12:30 pm-3 pm Expand Your Practice: Building on the morning session, we'll move into an exploration of more challenging postures with accessible variations, pranayama, and meditation.
4.5 Contact CE Hours with Yoga Alliance for Registered Teachers
Connect with me and let me know what you'd like to see offered! I'm excited to get back out on the road teaching again.
e-mail: scotta@butterflyyoga.net
text: (601) 594-2313
---