Yoga Teacher Certification (200-hour training)
---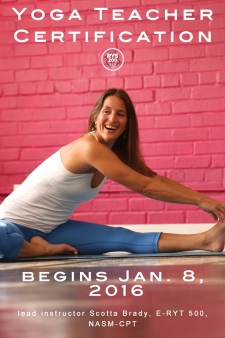 Join our 5-month Yoga Alliance accredited yoga school (RYS 200) and become a part of the class of 2016!
This course will have an initial Yoga Immersion that is open to anyone wanting to deepen their knowledge of yoga. After the initial Immersion phase, students wanting to complete the Yoga Teacher Training will dive even deeper into the art and science of yoga. After completion of all requirements, you will be a registered yoga teacher with the Yoga Alliance at the 200 hour level (RYT 200).
The Butterfly Yoga Teacher Training Manual is included in the price. Several books will be required at an additional cost. Pay in full or reserve your space with a $450 payment and 5 more payments of $450 due by the end of each month. If attending only the Yoga Immersion, $450 will reserve your space with 1 other payment of $450 due the beginning of February.
Reserve your space or register now below!
Yoga Immersion Topics

Asana techniques and alignment
Pranayama and basic kriyas
Meditation
Basic history and philosophy of yoga
Gross and subtle anatomy
Basic Ayurveda

Yoga Teacher Training Topics

Effective teaching strategies including observation, verbal cues, & use of language
Principles of demonstration
Learning and teaching styles
Sequencing and designing a yoga class
Verbal and hands-on adjustments
Yoga as therapy and adapting yoga for special needs, conditions, and injuries
Ethics
CPR
Practicum (liability insurance will be required prior to practicum)

YOGA IMMERSION & TEACHER TRAINING MEETING DATES

Fridays 5:30-8 pm:
January 8, 15, 22, 29 (Immersion Dates)
February 12, 19 (Immersion Dates), February 26
March 4, 11, 25
April 1, 8, 15, 29
May 16, 13
May 20 (Graduation)

Saturdays & Sundays 9:30 am-3:30 pm:
January 9 & 10 (Immersion)
January 23 & 24 (Immersion)
February 20 & 21 (Immersion)
March 5 & 6
April 2 & 4
May 14 & 15

Additional Requirements:

25 classes with lead instructor Scotta Brady, E-RYT 500 (included in price of Teacher Training, but not Immersion)
15 Practicum Hours
Video of yourself teaching a group class with a self-evaluation
---