Events
---
Upcoming Events
06/01/2013
12:00pm
-
2:00pm
$35
Scotta Brady and Jerusha DeGroote Stephens, LAc, FABORM will be offering a combination yoga/acupuncture class. You will receive the powerful, synergistic benefits of both modalities in one class! Expect a 75 minute yoga class suitable for all levels to get your energy flowing and followed by a supported restorative yoga pose with a couple of acupuncture points tailored just for you to deepen your relaxation.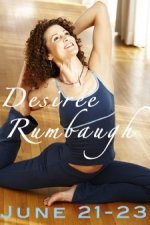 06/21/2013 6:00pm
-
06/23/2013 12:30pm
$160
LATEST NEWS from the New York Times: Yoga After 50
Please join us in welcoming Desirée Rumbaugh back to Jackson, MS for a weekend yoga workshop. Her technical ability, sense of humor, strength, vulnerability, and deep inspiration have endeared her to many here in the Southeast and all over the world! She is known to transform your outlook and shift your life!
WHEN: June 21-23
---